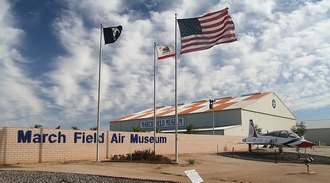 March Field Air Museum sits next to the runway at March AFB or now March ARB (Air Reserve Base) just south of Riverside, California on Interstate 215. It has a great collection of Air Force aircraft, all in good condition. Every month they open up an aircraft so you can go into it and some weekends they open up almost all the planes - ever wanted to sit in the cockpit of an SR-71?


This is a must see Air Museum if you live in Southern California. The middle of the summer it will be HOT, but the staff is great! Also you're right next to the runway so you get great shots of C-17s and KC-135s taking off and landing. There's also F-16s at March on Home Land Security Hanger Alert so they will be rare to see.


The aircraft on display are shown below except for a few Cargo planes. For more information plus details on each aircraft, please visit their website at www.marchfield.org. For a satellite picture click here. I know you'll enjoy your visit.